Rigid Reusable Plastic Beer Glass 10oz / 28cl / Half Pint
Hard Plastic Half Pint Cup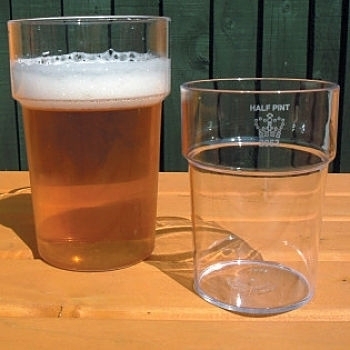 Rigid Reusable Plastic Beer Glass.
28cl - 10oz - HALF PINT TO BRIM.
CE Marked for legal draught beer service.
Economy REUSABLE styrene plastic beer glasses.
Glasswasher safe up to 100 cycles.
Strong, cost effective and safe.
Great for night clubs, outdoor functions, sporting fixtures, swimming pools.
Essential for service areas where safety is paramount.

Product Code: BB150-2CL CE
Case Price (ex VAT):
£12.32
Case Price (inc VAT):
£14.78
Case Quantity: 100
Case Quantity Discounts
1 - 4 Cases @ £12.32 Per Case + VAT
5 - 9 Cases @ £11.70 Per Case + VAT
10 + Cases @ £11.09 Per Case + VAT