Stewart Plastic Measuring Mixing Jug 2 Litre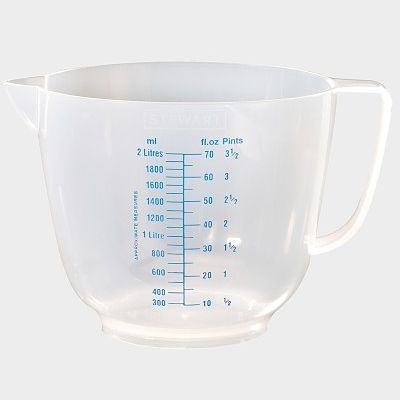 This 2 Litre measuring jug features easy to read measurement markings on the side in ml, oz and pints. It is also microwave and dishwasher safe for quick and easy cleaning. The mixing jug is perfect for use in any professional kitchen. Easy-pour spout.
Measuring Jug.
Brim Capacity: 2.2 Litres - 4 Pints Pint.
Height: 23cm - Top Diameter: 13.5cm.
Graduated in Milliliters and Litres and Fluid Ounces and Pints.
Lined capacity: 2 Litres - 3.5 Pints.
EU Food-Safe Certified.
Dry and liquid measures.
Can hold boiling hot liquids.
Manufactured with premium grade plastics to ensure durability.
For accurate food preparation.
Microwave, Freezer & dishwasher safe.

Product Code: 1484008
Case Price (ex VAT):
£3.52
Case Price (inc VAT):
£4.22
Case Quantity: 1(Single)
Case Quantity Discounts
1 - 5 Cases @ £3.52 Per Case + VAT
6 + Cases @ £3.34 Per Case + VAT