Magic Fabric Spot & Stain Remover 750ml
Magic Fabric Spot & Stain Remover.
750ml RTU Trigger Spray.
Safely removes fresh and old stains from carpets and soft furnishings.
Particularly good at removing such stains as Red Wine, Fruit Juice, Tea & Coffee stains.
Ideal for residential care homes, hotels, restaurants, building services cleaning and leisure facilities.
DIRECTIONS
Soak up as much of the spillage as you can with a disposable paper.
Spray and work the foam in from the outside of the spillage towards the centre.
Leave for 10 minutes and then wipe away the dirty foam.
Repeat the process until the foam is clean.
Leave to dry and then vacuum the crystalline residue away.
CAUTION
Test for colour fastness on a small inconspicuous area by leaving for 15 minutes.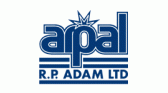 Product Code: 1274
Case Price (ex VAT):
£28.14
Case Price (inc VAT):
£33.77
Case Quantity: 6
Case Quantity Discounts
1 - 2 Cases @ £28.14 Per Case + VAT
3 + Cases @ £26.73 Per Case + VAT