Christmas Party Boxes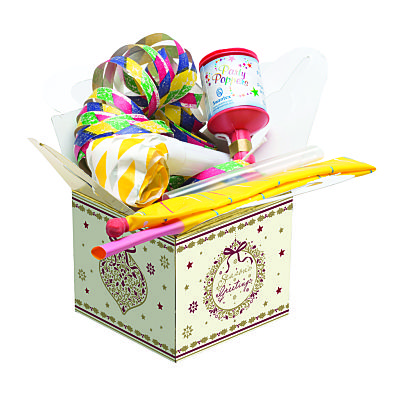 ALL 'SPECIAL ORDER' XMAS BOXES ARE NOW SOLD OUT
Please see 'Christmas Crackers In Stock' for remaining products available.
Christmas Party Boxes are part of the Christmas Product 2019 range available to buy-on-line at Chef & Bar Supplies.
These individual part boxes contain 1 x Rocket Balloon, 1 x Party Popper, 1 x Blowout and 2 x Streamers presented in a personal 'gift' style box. They can be great for complementing OR replacing traditional Christmas Crackers and they certainly give the appearance of a 'personal gift' to your customer. A great way to add value to your Christmas tabletop pesentation.
An 8 Person Sharing Party Box is also available which contains 8 x Crown Party Hats, 8 x Party Poppers, 8 x Balloons, 4 x Blowouts, 4 Tooters. and 2 x Rolls of Streamers. A great way for your guests to share part fun items and a tidy way to present on a table.
Please CONTACT CBS for any special assistance or further information. All Christmas products are subject to availability at the time of ordering.
N.B. ORDERS FOR NON-STOCK CHRISTMAS PRODUCTS WILL NOT BE ACCEPTED AFTER WEDNESDAY 29TH DECEMBER 2019.