BIODEGRADABLE FLEXI GLASSES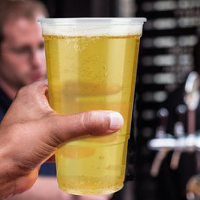 Product Code: F612ACBIO
Case Quantity: 1000
Case Quantity Discounts
1 - 4 Cases @ £42.66 Per Case + VAT
5 + Cases @ £40.52 Per Case + VAT
Case Price (ex VAT):
£42.66
Case Price (inc VAT):
£51.19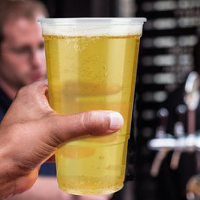 Product Code: FG616CBIO
Case Quantity: 1000
Case Quantity Discounts
1 - 4 Cases @ £66.96 Per Case + VAT
5 + Cases @ £63.61 Per Case + VAT
Case Price (ex VAT):
£66.96
Case Price (inc VAT):
£80.35
TWOinONE Flexi Glasses enable single use polypropylene to break down into a wax like structure , returning the material to nature without any micro plastic being present.

The best of both worlds! These tumblers can be collected and recycled as normal polypropylene (in any kirbside collection) OR.... if they become part of the fugitive plastic waste stream (which is approximately 32% of ALL plastics, that's 2 Billion tonnes!) they will biodegrade in less than a year with no microplastics being present. All that is left is carbon dioxide, water and biomass.
If 'fugitive plastics' can be reduced on land, then it will reduce the amount of plastics going into rivers and oceans thereby improving the marine environment.
This is what makes TWOinONE technologies different to other technologies that leave plastic fragments or particles.
The new material is reinforced by the British standard BSI PAS 9017 which independently verifies that the plastic biodegrades. It has also been selected by HRH Prince of Wales to be part of the Terra Carta brand.
100% RECYCLABLE | FULLY BIODEGRADABLE | MADE IN THE UK | IDEA SOLUTION FOR ANY OUTDOOR EVENTS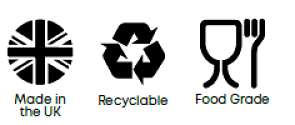 Material is engineered to degrade is a pre-set amount of time (approx 1 Year)
Typical Conditions on land enable for the process to take effect.
the plastic fully biodegrades leaving behind no toxins or microplastic residue.
the process is called BIOTRANSFORMATION.
A detailed leaflet is available to download on each product page. (Coming soon)