Divermite Dilution Chemicals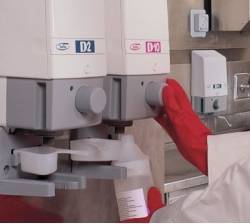 Professional Divermite Dilution chemical products are available to buy on line from Chef & Bar Supplies within the Kitchen Cleaning range, just part of the extensive product offer for Chef & Kitchen.
These specialised professional products are dispensed via wall mounted dispenser systems. This gives the ultimate cost in use low pricing AND the most thorough cleaning and sanitizing schedule available.
From these highly concentrated 1.4 Litre pouches, costs can be as low as 10p per trigger spray refill. Compare that to ANY ready to use product and you will immediately see the potential cost savings. Plastic and paper waste is cut to an absolute minimum with robust reusable trigger bottles that are good to go for 100's and 100's of times. So, the environment gains too.
As an alternative, SmartDose Concentrates are mini bottles with built in dosage dispensers, offering smaller sites or mobile caterers the same great products and cost savings without the initial purchase cost of wall mounted dispensers and allowing the concentrate products to be transported easily and safely.