Economy Blue 2Ply Centrefeed Paper Wiper Roll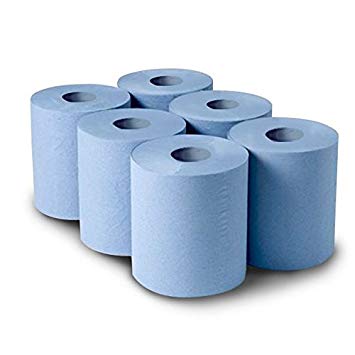 Centrefeed - Centrepull Wiper Roll.
Dimensions: (H) 197mm x (L) 150 Metres approx.
Food safe. FSA Approved.
Blue 2Ply Tissue.
Colourfast Tissue. No bleeding of colour.
Edge bonded so it doesn't fall apart.
Economical.
Cost effective.
Excellent quality.
Centrefeed Roll Wall Mounted Dispenser available separately.
N.B. Blue wiper rolls should always be used in catering areas so that any accidental debris can be easily spotted within food products.

Product Code: MKBR157F
Case Price (ex VAT):
£10.83
Case Price (inc VAT):
£13.00
Case Quantity: 6 Rolls
Case Quantity Discounts
1 - 4 Cases @ £10.83 Per Case + VAT
5 - 9 Cases @ £10.19 Per Case + VAT
10 + Cases @ £9.68 Per Case + VAT
- You may also want to visit: