REFURBISHED Infrared Thermometer RayTemp 3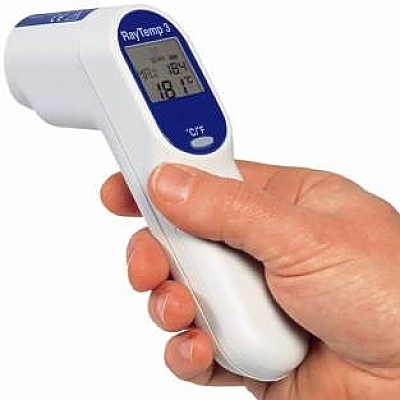 Refurbished and recalibrated Ray Temp 3. As new and supplied in original boxes (or carry cases).
10 ONLY AVAILABLE
Infrared Thermometer RayTemp 3.

Ideal for all professional kitchens.

Excellent for checking freezer deliveries.

Simple push button operation. Aim, pull trigger and read temperature.

Range -60 to +500 C.

Assured accuracy of +/- 1 C over range of 0 - 65 C.

Compact, lightweight and simple to use.

Battery life: 140 hours continuous.

Auto off function (15 seconds).

Carry cases available separately.

Product Code: ETI814-040R
Case Price (ex VAT):
£35.00
Case Price (inc VAT):
£42.00
Case Quantity: 1(Single)
Case Quantity Discounts
1 - 4 Cases @ £35.00 Per Case + VAT
5 + Cases @ £32.50 Per Case + VAT
- You may also want to visit: