A7 WHITE Chalk Tags and Black Chalk Pen
White Tags with Pen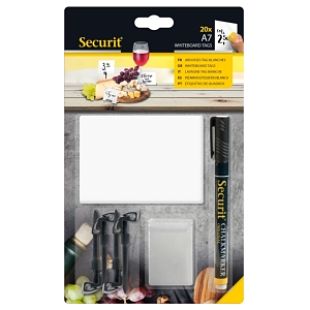 20 x A7 WHITE Chalk Tags and 1 Black Chalk Pen.
Dimensions: 10.5 x 7.4cm.
Double sided white chalk board surface.
Ideal for tabletop and bar use.
Ideal for table numbers, specials, prices etc.
Can be laid flat or inserted into a table number/menu stands.
Liquid chalk pens and spray cleaner also available.
Product Code: GNTAG-A7-BL
Case Price (ex VAT):
£12.70
Case Price (inc VAT):
£15.24
Case Quantity: 1(Single)
Case Quantity Discounts
1 - 4 Cases @ £12.70 Per Case + VAT
5 - 9 Cases @ £12.07 Per Case + VAT
10 + Cases @ £11.43 Per Case + VAT