Acacia Wood Zinc Banded Serving Board 17cm / 6.7inch
Round Wooden Board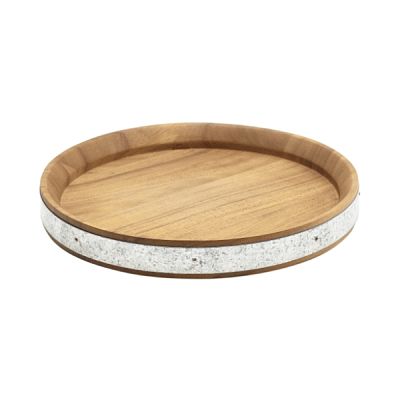 Acacia Wood Zinc Banded Serving Board.
Dimensions: 17 x 2.5cm - 6.7 x 1inch.
Inspired by traditional wooden barrels.
The combination of wood and with metal banding creates an industrial look for food and drink presentation.
Ideal for servicing small plate dishes, desserts, cheese, cakes etc.
Or simply use use as a serving tray for drinks and dishes or as a bill presentation or tip tray.
Maintenance:
Wash over with warm soapy water.
N.B. Do not leave to soak. Hand dry immediately.
Occasionally coat with olive oil to prevent wood from drying out.

Product Code: GNWSBB17
Case Price (ex VAT):
£8.30
Case Price (inc VAT):
£9.96
Case Quantity: 1(Single)
Case Quantity Discounts
1 - 4 Cases @ £8.30 Per Case + VAT
5 - 9 Cases @ £7.89 Per Case + VAT
10 + Cases @ £7.47 Per Case + VAT